Today was a pretty exciting day--and although the boy-o isn't old enough to remember it years down the road, we captured the moment in a photo so I can tell him all about it when he gets older.
Chris Hadfield has a new book coming out called "An Astronaut's Guide to Life," and he's kicking off a promotional tour for it today. Although I don't personally know Chris at all, we're from the same small town and I take extra pride in knowing that someone from small-time life has become pretty much the coolest Canadian. EVER!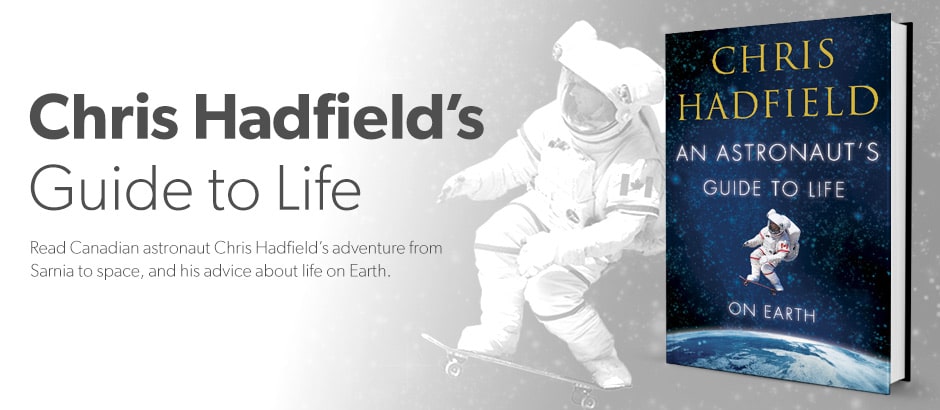 But today, today was a special day for us. He was giving a private talk at KOBO (the on-line book people) and we were able to tag along to the talk. It was an excellent, honest discussion about what it's like being in Space and what some of the life experiences were that led him to that path. After the talk was over there were some audience questions, and then people had the opportunity to go and meet him and get things signed etc.
Well my parent's old next door neighbour apparently grew up with Hadfield (told ya, small town!), and when the boy-o was born she gave him a "Space" shirt in honor of Hadfield who was on his mission at the time. And because Fate is awesome, that shirt just happened to be the right size for him to wear today--the day he got to meet Chris Hadfield!
We were able to go up on stage to say hello, and get our photo taken with him. That's Chris Hadfield holding my baby!! He had a whole little conversation with the boy-o about his adorable shirt and about how he was
fascinated
with Chris' moustache! It was really awesome to see how good he was with the boy-o, and it was really really awesome to meet such an awesome guy!
He's touring around to various Indigo book stores and such to promote his new book--and I highly recommend you check him out if you can! Because really, how many chances are you really going to get to meet a Rocket Man?